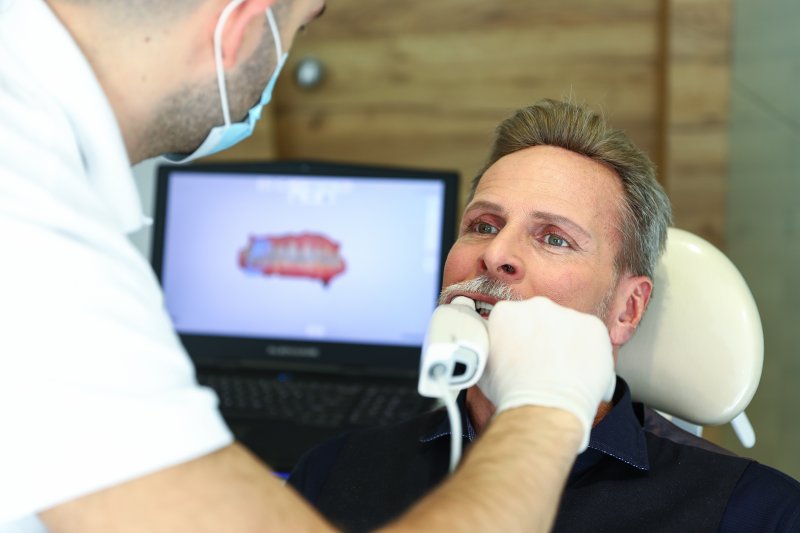 Dental technology has come a long way over the years. The advancements are happening so quickly that many dentists are working overtime to keep up with the latest tools and equipment designed to improve patient satisfaction. At Powell Dental Group, their dental professionals are no different, as they are constantly looking for the right technologies to improve accuracy, offering greater precision, and provide patients with more detailed treatment plans when addressing sleep apnea or another common dental problem. So, what kind of state-of-the-art care will you receive during your next visit? Let's find out.
Why Is It Important for Dentists to Incorporate New Technology?
If you are a patient looking for a dentist to take care of your dental needs, you might consider someone who is committed to providing the latest and greatest in technological advancements. Should you opt for a professional who prefers more traditional methods, this could mean a less-than-comfortable experience and longer recovery times.
However, when finding an individual who incorporates first-rate equipment into their office, it can be a good sign that you've chosen a dental professional who believes in the benefits of new technology and its extensive possibilities.
What Types of Dental Technology Does Powell Dental Group Use?
In their Powell, OH office, you will find the following equipment ready to use:
Intraoral Camera – This handheld device allows you to see exactly what the dentist sees when examining your oral cavity. A high-definition image will be projected onto a screen to show you any problem areas that require necessary treatment.
Digital X-Rays with Negligible Radiation – Instead of traditional x-ray machines, these new methods emit, on average, 90% less radiation and produce higher-quality images for your dentist to review. There is also the option for Digital X-Rays (external only).
CareStream Digital Color Imaging – The CareStream Digital Impression System takes fast, detailed 3D images for technicians to use as a blueprint for customized restorations. Requiring no messy impressions, it captures dentition and bite details for fabricating accurate, customized sleep apnea and snore appliances.
OralID for Oral Cancer Screening – The OralID Oral Cancer Screener finds cancerous and precancerous cells in the initial stage. The special light illuminates the abnormalities and better provide dentists with the necessary information to help patients with follow-up care.
Air Abrasion Stain Removal – When brushing alone will not suffice, air abrasion stain removal will gently eliminate surface stains and discolorations from your teeth, leaving them sparkling.
Gentle Cavitron Cleanings – Instead of using a traditional dental scraping instrument, this device allows for a more comfortable and gentler tartar removal process using high-frequency sound waves.
In-Office Tooth Whitening with Take-Home Glo Unit – You can achieve a whiter, brighter smile in under an hour with in-office tooth whitening. You can also enhance your smile on your own time with the take-home Glo Unit for continued whitening at home.
Sirona Orthophos CBCT 3D Imaging – In one rotation, this machine can capture high-resolution images of the jaw and facial structure to create one X-Ray image that will be used to create more accurate and precise treatment plans.
Eccovision Rhinopharyngometry for Airway Assessment – This piece of equipment measures the airway and nasal passageway to better determine obstructions and how best to treat sleep apnea.
ResMed ApneaLink Home Sleep Testing for Sleep Apnea – Recording respiratory effort, pulse, oxygen saturation, nasal flow, and snoring, this at-home sleep testing device is compact, easy-to-use, and cost-efficient.
Nitrous Oxide (Laughing Gas for Anxiolytics) – Using an appropriate mixture of oxygen and nitrous oxide, this sedation technique is ideal for patients of all ages, helping you to relax during most dental treatments.
IV Sedation – Administered by a dental anesthesiologist, IV Sedation is a great way to reduce anxiety and achieve a calm, comfortable state before a more complex procedure.
VisualDx for Digital Diagnoses of Lesions and Rashes – VisualDx is a unique app that allows the team at Powell Dental Group to take a photo of an area of the skin, which is then analyzed using the app's software. It then determines the classification of the lesion and/or rash before providing recommended treatment options.
Z-Synergy Home Testing for Sleep Apnea – This FDA-cleared EEG sleep technology is an easy-to-use system that assigns a score for wake, light and deep sleep, REM, and arousals every 30 seconds.
What Are the Benefits?
When you consider how these technologies better serve you as the patient, you can see that the benefits far outweigh any negatives. While these are costly for dentists to purchase and provide, the results often prove to be more cost-effective. For example, older impression systems use dental putty that doesn't produce detailed models of your smile. This can lead to inaccurate and uncomfortable restorations that require readjustment or replacement after a short time. However, with digital impressions, there is less risk of needing a new prosthetic because of its ability to produce clear, concise, and meticulous imagery.
By allowing your dentist to use the appropriate equipment to improve, enhance, and restore your oral and overall health, you can expect faster appointments that lead to longer-lasting results.
About the Practice
Powell Dental Group is led by a team of dentists who believe in the importance and benefits of advanced, modern technology. Using everything from intraoral cameras to a Z-Synergy Home Testing system for sleep apnea, we take pride in offering our patients a chance for faster, more accurate results. If you are interested in learning more about the equipment we use, contact us at (614) 436-4433 or visit our website.