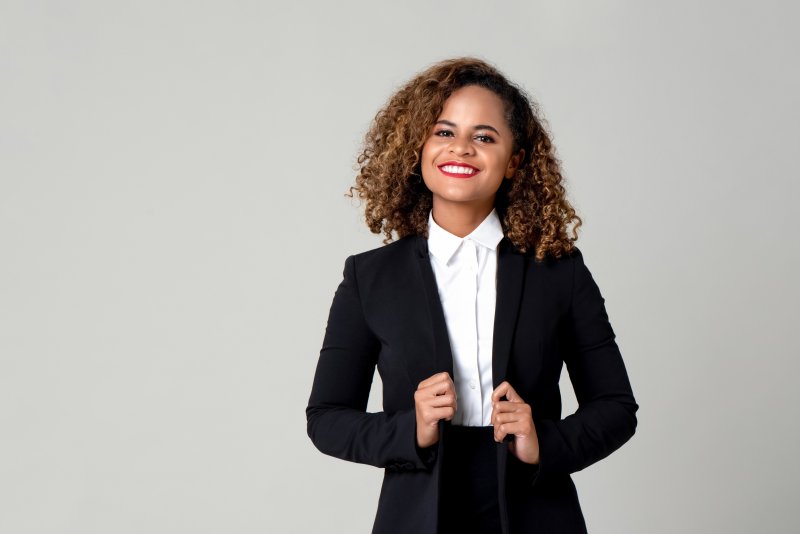 You've landed an interview with The Ohio State University in Columbus, and you know that if you get the job, you'll be well on your way to climbing the academic ladder. But with only a week before the meeting, you wonder if there's any way you can improve the look of your teeth. After years of drinking coffee and not paying as close attention to your oral hygiene as you should, flaws and imperfections are beginning to show. What do you do? Read on to learn how a cosmetic dentist in Powell can help you achieve success in your professional endeavors with the help of the right dental treatment.
What Your Smile Says About You
Your smile is the first thing people notice about you. Whether you're meeting your best friend for lunch or a future employer about a job, your teeth can say a lot about how well you take care of yourself. From their color and alignment to the overall mood that a healthy, beautiful smile can set for a particular environment, this attribute is more powerful than you might think.
If you are preparing for a job interview, your smile can dictate the feelings and opinions of the interviewer. Here's how:
If your teeth appear whiter and brighter, you may come across younger and more attractive, which can potentially lead to greater opportunities and higher pay grades.
If your teeth are straight, an interviewer or employer may view you as more intelligent, having greater health, and possess positive attributes that can benefit their company.
If you walk in feeling confident about your smile, it can help improve the moods of others and increase productivity.
Your smile can also suggest that you live a healthy lifestyle and will be less likely to take time away from work to address common conditions many people live with (i.e., cardiovascular disease, diabetes, etc.).
Available Treatments Designed to Improve Your Aesthetics
If you want to make the best possible first impression, you'll need to find out which cosmetic treatment(s) is right for you. The only way to know this is by scheduling a consultation with your dentist in Powell to discuss your available options. It's important to consider your timeline, as you don't want to start treatment and be unable to finish before your big interview.
Some of the most common cosmetic solutions you can choose from include:
Veneers – These thin shell coverings help to hide chips, cracks, stains, and minor gaps, giving you an even, complete, and fully transformed smile.
Composite veneers – Using composite resin, your dentist can easily shape and sculpt the thin layer placed over the surface of your tooth, hiding any imperfection. This is considered a more affordable and less invasive option than traditional veneers.
Metal-Free dental restorations – If you looking to mimic the strength and appearance of traditional tooth enamel, a customized dental crown can be created and placed over your natural tooth.
Dental bonding – By covering minor imperfections with composite resin, your dentist can have you in and out in no time at all, enjoying a healthier, damage-free look.
Teeth whitening – Whether you choose in-office or at-home whitening, your dentist can help you blast away stains and start enjoying a whiter, brighter smile.
Clear aligners – Using customized, clear, plastic aligners, you can be well on your way to a straighter smile in less time than if you were to use traditional metal braces.
Make sure your smile is ready to make a positive statement during your upcoming interview. By taking the time to improve the look of your teeth, you'll increase your chances of landing the job of your dreams.
About the Practice
Powell Dental Group is comprised of a team of expert dentists and staff who maintain a medically-minded approach when helping patients discover and avoid oral and overall health problems. Our commitment (and promise) is to not only provide healthier, more beautiful smiles but to also improve your overall well-being. If you're unhappy with your smile, we can transform it with dramatic results using various techniques and treatments. To learn more about our popular cosmetic treatments, contact us at (614) 436-4433 or visit our website.