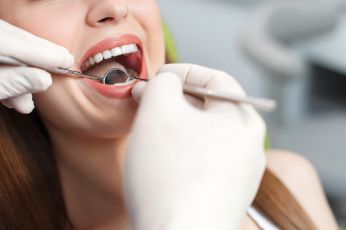 Welcome! Everyone on the staff at Powell Dental Group is excited to share the first installment of our new blog with you. For today's blog, you'll get an introduction to the services we offer and find out what you can expect during your visits with a dentist in Powell. But don't forget to check back in each month, as we'll be sharing valuable information on new topics such as how to achieve better oral health or what a particular dental procedure will entail. Whether you've been a patient of ours for a while or you haven't scheduled your first visit yet, we look forward to serving your dental needs for many years to come!
What Services Do We Provide?
Our goal is always to make sure your teeth and gums are healthy, so no matter what type of oral health issues you have, we've got you covered. But your overall health is important to us as well, so we also address conditions such as sleep apnea and oral cancer.
And, since we know you're busy, we make it convenient to get all the care you need in the same place. Here are just some of the services we provide:
Checkups and cleanings with an oral cancer screening at every visit
Periodontal therapy for patients with gum disease
Children's dentistry, including sealants, fluoride treatments, and athletic guards
Cosmetic dentistry such as whitening, tooth-colored restorations, veneers, and air-abrasion to remove stains
Clear braces
Sleep apnea treatment (we partner with Ohio's top sleep physicians)
Snoring appliances
TMJ/TMD therapy
Full-mouth reconstruction
Dental implants
Fillings, root canals, and dental crowns
Bridges and dentures
Sedation options to take the fear out of dentistry
Extractions
Emergency care
What Can You Expect At Your Visits?
Our philosophy of care is to treat every patient like family. We combine old-fashioned personal attention with the latest technology to provide an outstanding experience at every appointment.
We want to make your dental care more efficient, effective and comfortable, so here are some examples of the technology we use to help us do that:
Digital X-rays – These X-rays use up to 90% less radiation and are also faster and more comfortable than traditional X-rays.
Digital impressions – No more messy and uncomfortable impression trays! Digital impressions are done with a simple scan of your teeth, which is not only faster and easier, but also more accurate than impression putty.
Intraoral cameras – These tiny cameras allow you to see up-close photographs of your teeth so you can see the same thing we do. This is a great way to help you understand your oral health and why a particular treatment may be recommended.
From the moment you walk through the door until the end of your appointment, you'll be made to feel welcome here. We know that a comfortable environment is important to help you get the dental care you need, without any stress.
And, finally, we are accepting new patients, so don't hesitate to contact us if you've never seen us before. We look forward to meeting you!
About the Author
Dr. Shelley D. Shults is not only an award-winning family dentist in Powell, but also a nurse practitioner and dental sleep medicine provider. With her unique background and compassionate chairside manner, she's able to provide an unmatched level of care to patients of all ages. If you have any questions or would like to schedule an appointment, she can be contacted via her website.