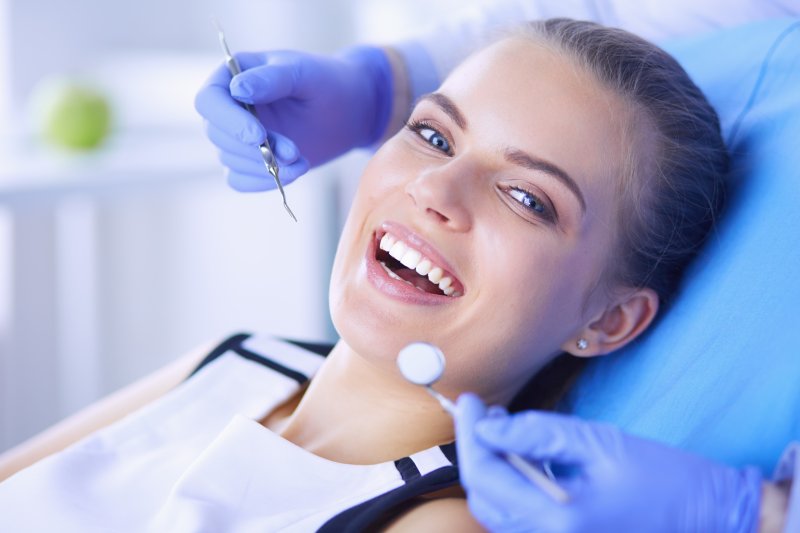 With the start of the new year, more and more people want to transform their appearance. Whether it is by incorporating more exercise into their daily routine, eating healthy, or improving the look of their smile, changes are being made every day. Fortunately, dental professionals throughout the country are happy to provide useful suggestions and techniques to help patients achieve an optimal level of oral health. If you are one of the many who want to do something about your teeth and gums and are ready to act, read on to find out how these dental habits in Powell can have you smiling brighter in 2020.
The Importance of Good Oral Health
When you visit your dentist in Powell for a regular checkup and cleaning, it is because you want to maintain good oral health, right? Tooth decay, gum disease, oral cancer, and a host of other dental problems are eagerly waiting to wreak havoc on your teeth and gums. But by choosing to actively care for your mouth at home as well as keeping your six-month dental appointments, you can combat all of these issues and more.
The mouth and body are closely interconnected, which means, when problems arise in one area, you can expect there to be others occurring in the other. While there are other factors that you must consider in order to stay healthy, keeping your oral health in check is a great way to lower your risk of developing a heart attack, stroke, high blood pressure, diabetes, dementia, Alzheimer's, and more.
Tips to Improve Your Smile in 2020
If you're ready to get serious about doing a better job caring for your teeth and gums, take some time to review the following tips:
Commit to Flossing: Even if you brush your teeth as you should, flossing is another key element for better oral health. Harmful bacteria and food particles can seep into the crevices and hard-to-reach areas of your smile. Flossing is an effective way to remove these from your teeth and prevent tooth decay and gum disease from developing.
Don't Cancel on Your Dentist: Naturally, if an emergency occurs, it's understandable that you might need to reschedule your dental appointment. Otherwise, don't make excuses to get out of your visits. Having regular dental cleanings in Powell can make a big difference in the health of your teeth and gums, so make time to see your dentist.
Brush Regularly: In fact, make sure you're brushing your teeth twice a day. If necessary, set a timer to help you remember to brush for a full two minutes. Using a soft-bristled toothbrush will be much easier on your teeth and gums, and don't forget to use fluoride toothpaste to combat tooth decay and strengthen your tooth enamel.
Eat Healthy Foods: The holidays have passed, so if you're trying to lose weight, this tip should be a given. Eating too much sugar can not only negatively impact your waistline, but it can also make you more susceptible to tooth decay. Instead, opt for healthy alternatives such as fruit, and make sure you're incorporating nutrient-rich foods (i.e. lean proteins, vegetables, cheese)
Don't let your smile fall victim to bad habits of 2019. By following these simple steps, you'll be well on your way to a healthier smile this year.
About the Practice
Powell Dental Group is comprised of a team of expert dentists and staff who maintain a medically-minded approach when helping patients discover and avoid oral and overall health problems. Our commitment (and promise) is to not only provide healthier, more beautiful smiles but to also improve your overall well-being. To learn more about how we can help you achieve your smile goals in 2020, contact us at (614) 436-4433 or visit our website.