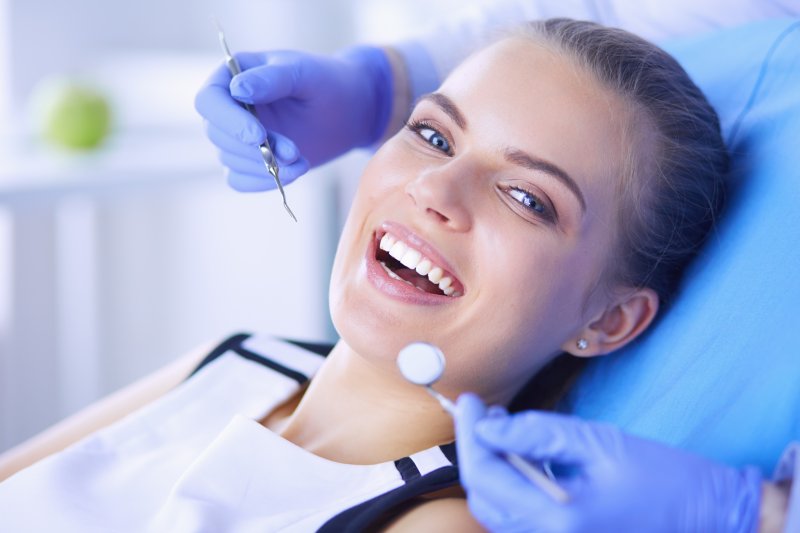 When it comes to taking care of your oral health, you likely rely on your dental insurance to help cover the costs. But did you know that when enrolling in your plan, your insurer provides an allotted amount (your annual maximum) that is only good for one calendar year? Although unfortunate, billions of dollars are returned to insurance companies because of unused benefits. What can you do to keep this from being your reality? Let a dentist in Powell explain how maximizing your plan now will save you more money in 2020.
Preventive Care Leads to Fewer Problems in the Future
Getting your second dental checkup and cleaning each year is one way you can keep more money in your wallet and avoid more timely and costly procedures in the future. Because dental insurance companies design their policies to encourage clients like yourself to be proactive about your oral health, you will pay little to nothing out of pocket for your visit. Not to mention, many insurers are waiving their policy that states you must wait six months and one day between your two annual visits. Because of COVID-19, you are encouraged to see your dentist in Lewis Center before the end of the year, even if your first visit was only a month or two ago.
Scheduling Complex Treatment to Use Annual Maximum
Want to ensure you use your annual maximum this year? If your dentist recommends a more complex, invasive dental treatment (i.e. tooth extraction, root canal, dental crown, etc.), get it scheduled before 2020 is over. This money is provided to you by your insurer, which means you are free to use it to improve your oral health during one calendar year. Getting this type of procedure scheduled ensures you take full advantage of this allotted amount while taking care of your smile.
If your treatment requires multiple visits, it may be possible for your dental team to spread them out across calendar years so that you can use your 2020 and 2021 annual maximums. If possible, this can help you avoid paying additional out of pocket costs.
Seeing an In-Network Dentist Saves You Money
When enrolling in your dental insurance plan, you likely noticed there were separate columns for in-network and out-of-network pricing. Opting to see an in-network dentist will save you lots of money in the long run because of the pre-negotiated fees and services between the practice and your insurance company. While it's ultimately your decision who you choose to see, a dentist who is in-network will have you taking less out of your bank account without sacrificing quality.
Although there's nothing you can do about the fact that your benefits don't roll over at the start of each year, you can make the most of the time between January and December by using your dental insurance plan to the fullest extent.
About the Practice
At Powell Dental Group, our focus is to provide high-quality dental care that is affordable for all patients. When it comes to using your dental insurance, our team of professionals will help you better understand your policy as well as maximize your benefits to help you save the most money at the end of the year. We believe that patients who use insurance to maintain better oral health should be made aware of its advantages. From scheduling dental checkups and cleanings to spreading out treatments across calendar years to avoid out of pocket expenses, visit our website or call (614) 436-4433 to let a "dentist near me" help you.